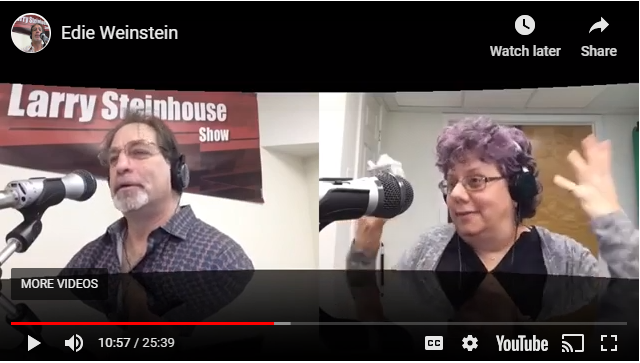 Larry Steinhouse interviews Edie Weinstein
In this episode, Larry Steinhouse interviews Edie Weinstein a creative journalist, interviewer, author and editor, a dynamic and inspiring speaker, licensed social worker and interfaith minister, BLISS coach, event producer, certified Laughter Yoga Leader, certified Cuddle Party facilitator, and Cosmic Concierge.
Edie is the founder of Hug Mobsters Armed With Love, which offers FREE HUGS events world- wide on a planned and spontaneous basis.
She speaks on the subjects of wellness, relationships, trauma recovery, addiction, mental health, spirituality, sexuality, loss and grief.
Find out more information about Edie at: http://www.opti-mystical.com
Be sure you like The Larry Steinhouse Show to get news and updates at:
https://www.facebook.com/TheLarrySteinhouseShow/